Make:
Talon
Model:
F5000
Year:
1974
Chassis: 74-07.1
Engine: Chevy 5lt. by Spartan Engine Development
Transmission: Hewland DG300
Owner: David Banks
Location: Auckland, New Zealand
Previous Owners: Bill Harris, Jon Woodner, Jim Levitt, Jack McCormack, Hal Whipple
Racing History: Car raced by Woodner, Steve Durst and Hunter Harris during 1974 and 1975 in various F5000 events in the US. Car was converted to center seat Can-Am and participated in Can-Am series in 1976. Car recently purchased by Hal Whipple and restored to F5000 configuration by Kris Heil for F5000 40th Anniversary races.
Make:
Talon
Model:
F5000
Year:
1974
Chassis: ?
Engine: N/A
Transmission: Hewland
Owner: Aaron and Peter Burson
Location: New Zealand
Previous Owners: N/A
Racing History: N/A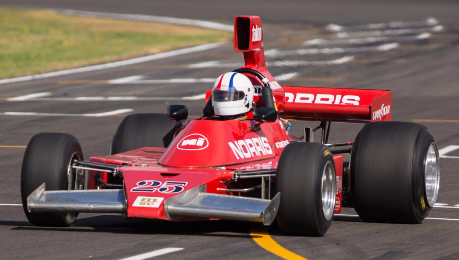 Make:
Talon
Model:
MR1A
Year:
1974
Chassis: 3
Engine: Chevy 5 Litre
Transmission: Hewland DG 300
Owner: Grant Martin
Location: Aukland, NZ
Previous Owners: Jack McCormack , Walter Wolfe (chassis), Dino Crescentini (chassis)
Racing History: Car raced in the USA F5000 Series and in the Tasman Series in 1974 and 1975 by Chris Amon and Jack McCormack with a debut in June 1974 at Mid-Ohio. Chris Amon raced the car in the Inaugural Long Beach Grand Prix in September 1975. After 1975, car chassis was purchased by Walter Wolf for use in building the Wolf-Dallara center seat can-am race car raced by Chris Amon and Gilles Villeneuve beginning in 1977. After the car was crashed by Dino Crescentini in 2008, the chassis found its way to New Zealand and a new body was built to return the car to its original specifications as a Formula 5000 race car by Grant Martin. Martin has campaigned car in various historic F5000 event in New Zealand, Australia and the USA.